Live summit airs from June 27 to July 1, 2022
Amplify Coherence in Your Body, Mind & Spirit
What if you could take a sonic multivitamin each day that expedited your healing process? What could you create with ancient and contemporary sound tools that release stress and activate inspiration?
Sound healing is a form of therapy that can help you shift your spiritual, mental, and emotional states. There's a growing collective desire to explore the transformative capabilities of mystical and medicinal sound healing tools.
Scientific research is revealing that ancient traditions such as humming and chanting, have measurable frequency effects on the mind. By utilizing sound tools like tuning forks and sacred drumming, you can access altered states of consciousness, the creative flow state, and spiritual awakening.
By integrating brain wave stimulation techniques such as binaural beats and cymatics imagery into your daily routine, you can also experience profound shifts in self-awareness, spiritual guidance, and emotional regulation.
Sound therapy can also have profound effects on your physical body as well. You can explore emerging technology such as biofield tuning, t esla scalar technology, and self-induced laughter to stimulate immune response, blood flow, and hormone balance.
The Sound Healing Summit invites you to explore the mystical and medicinal power of sound. Whether you're a seasoned practitioner or new to sound therapy, you can join our wide range of immersive experiences to reduce stress, connect with inner guidance, and expand your creativity.
Experience the Transformative Power of Vocal, Acoustic & Quantum Sound
During this high-production quality, experiential event, you can become immersed in vibrational therapy with engaging daily routines, healing meditations, musical performances, and celebrity Shift Talks and panels.
Explore the physics, biology, and spirit of music medicine from Shift Talks with Eileen McKusick, sound healing pioneer… Barry Goldstein, Producer and Composer … Brothers Koren, transformational voice leaders, and more.
Expand your consciousness with audio-only performances from sound healing musicians. Bodhi Setchko will play the flute and guitar to guide you on a sonic journey toward deeper relaxation and clarity. Dive deep into sacred sounds and healing frequencies with frame drumming from Krista Holland, and a nourishing sound bath from Kyle Lam.
Discover how to boost your mental health, creativity, and happiness with the power of sound!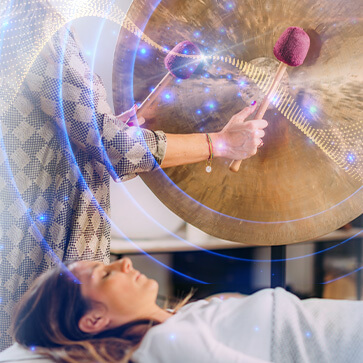 REGISTER: http://soundhealingglobalsummit.com/
UPGRADE: http://soundhealingglobalsummit.com/upgrade